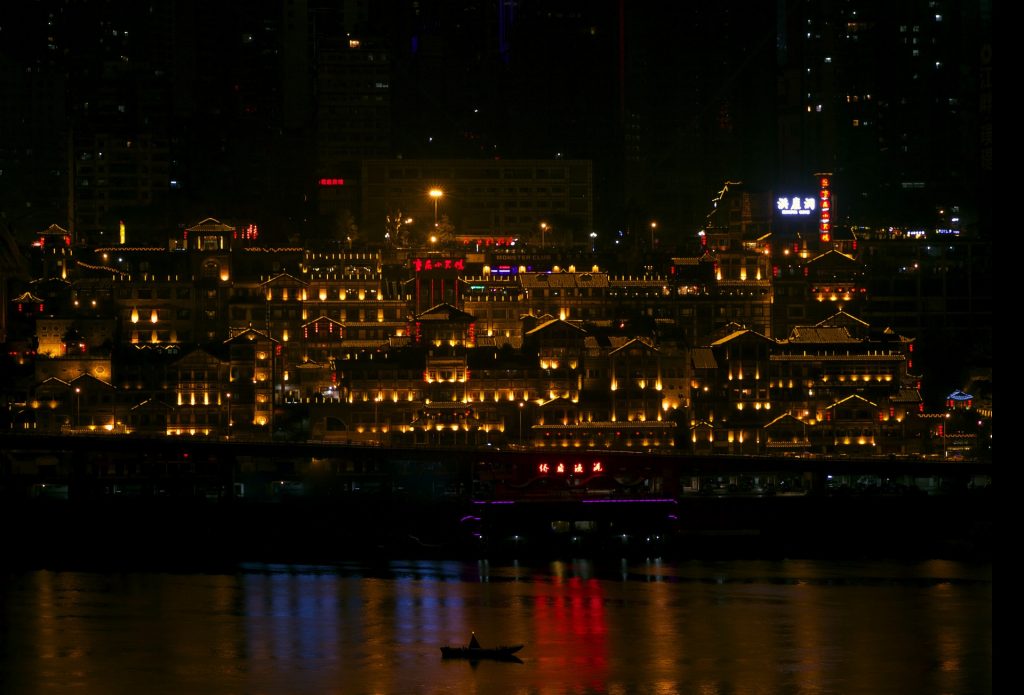 Located in Southwestern China, Chongqing is a very popular tourism destination that continues to grow rapidly. Chongqing is home to delicious spicy food, cultural museums and UNESCO World Heritage Sites.
Jiefangbei Central Business District is lined with tall skyscrapers,  hotels,  department stores, luxury brand stores and shopping malls. Stepping into Jiefangbei will feel familiar to being in Times Square. Bayilu Road Food Street located in the district is a famous food street filled with stalls selling delicious and cheap snacks.
Hongya Cave was a large-scale stilt housing complex built along a cliff along the Yangtze River that served as a military fortress in the old days. Not far from Jiefangbei CBD, it has now become a very famous historical sight for tourists to experience the ethnic culture of China – Bayu Culture. The entire complex consists of four streets: Zhiyanhe Bar Street is full of nice bars, Tianchengxiang Bayu Culture Street contains many traditional fine crafts, Banquet Food Street is packed with local food and foreign dishes, and lastly, Exotic Balcony Street, known for its cafes and exotic restaurants. One of the free things to do in Chongqing is to enjoy a wonderful night.
Yangtze River is the largest in China and the third largest in the world and the longest river to flow through a single country measuring 3,915 in length. Yangtze Cruise is the perfect way to chill and enjoy the breathtaking scenery along the river, mainly the Three Gorges amongst the ancient cultural sites.
The Yangtze River Cableway is a special vehicle used for crossing the Yangtze River. It was first used by locals but it has now become a top experience and activity for tourists visiting Chongqing. The cable car stretches 1,166 meters long and has ran since the 80s. The ride is approximately 4 minutes but provides magnificent views of the city.
A visit to Ci Qi Kou Old Town should be included in any tourist's itinerary when visiting Chongqing. Ci Qi Kou is the nearest old town and a favorite among locals and tourists. It used to be a wharf hundreds of years ago. Wandering in the town today, you will be able to see the ancient buildings dating back to the Ming and Qing Dynasties. The streets are abundant with tea houses and snacks shops, where you can sample authentic food and experience the unique tea culture of China. You might even be able to catch folk artists who often perform in the tea houses.
Anyone wishing to visit China must have a Chinese visa to enter the country. Many agencies such as ChinaEntryVisa provides visa services to help you obtain one.