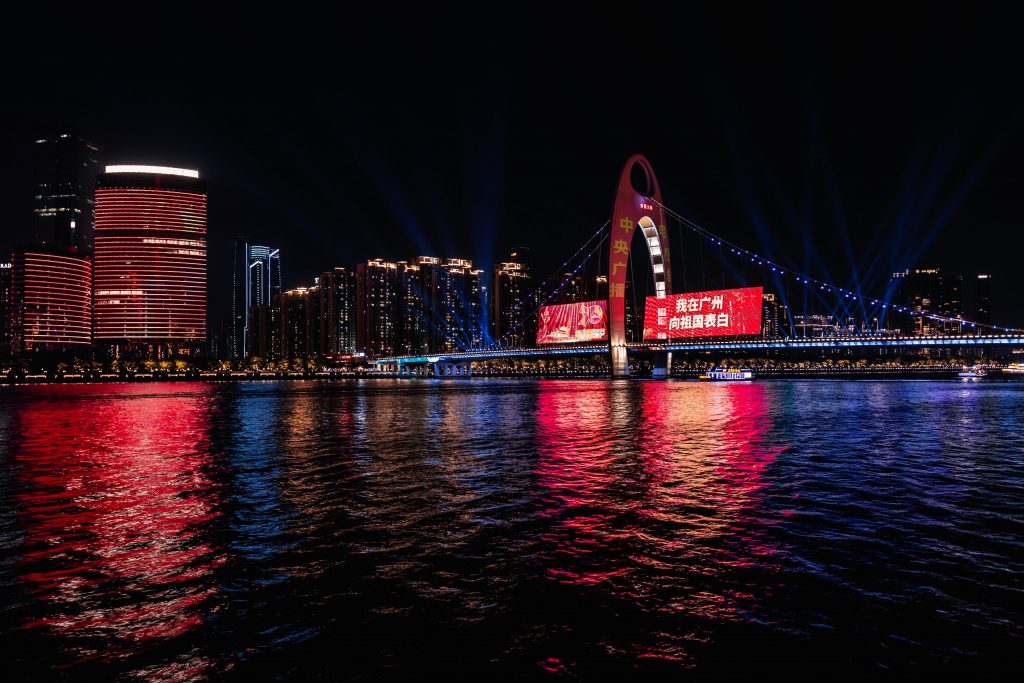 Guangzhou is a first-tier city with amazing sights and breathtaking scenery. This metropolis is one of the most prosperous cities in mainland China and offers many options for entertainment and enlightenment.
Guangzhou is home to the third largest river in china, the Pearl River. The Xi River, Bei River, Liuxi River and Dong River all converge to form the flow of the mighty Pearl River. Taking a night cruise on the Pearl River reveals a whole new side of Guangzhou and offers wondrous glimpse of the beautiful skyline. The neon lights reflecting off the river leave travelers breathless in awe at the beauty.
You can also ascend the Canton Tower, the highest tower in China at over 600 meters and offers amazing bird's eye views.  There are several ways to ascend this modern marvel: you can ride the world's tallest sky wheel Bubble Tram, or the Spider Walk, a transparent ladder that offers a one-of-a-kind experience. There's also the Sky Drop, where you can experience a 30 meter free fall from 485 meters above the surface of Guangzhou. This attraction is in the Guinness Book of World Records for the highest vertical free-fall in the world.
Guangzhou is also home to the Chimelong Safari Resort. The resort not only has a safari park, but is also home to a world-class circus! Some of the attractions in the Safari Resort include a Safari Park tour that even lets you touch some of the animals. The Chimelong Circus is home to a comedic acrobatic routine that features animals from the resort. The Chimelong Safari Resort is also home to a world-class water park, a bird park that is home to many rare species of birds, including black-necked Swans, and an amusement park with rides for the thrill-seeker inside of you.
The Guangzhou Opera House is a unique and magnificent feat of architecture that blends in the skyline of Guangzhou. The Opera House often has operas, ballets, dramas and even symphony concerts.
If you're looking for something more historical, you can visit Shamian Island. This island on the Pearl River was the site of foreign settlement during the 19th century. It is home to a unique mixture of European-style buildings and a smorgasbord of food options.
There's also the Chen Clan Ancestral hall. This historical site was built by the Chen Clan in the late 1800's. The Chen Clan were extremely influential to the development of Southern China.
Guangzhou is a wondrous modern city on the southern coast of China. It offers many options to experience both old and new China.
Anyone wishing to visit China must have a Chinese visa to enter the country. Many agencies such as ChinaEntryVisa provides visa services to help you obtain one.