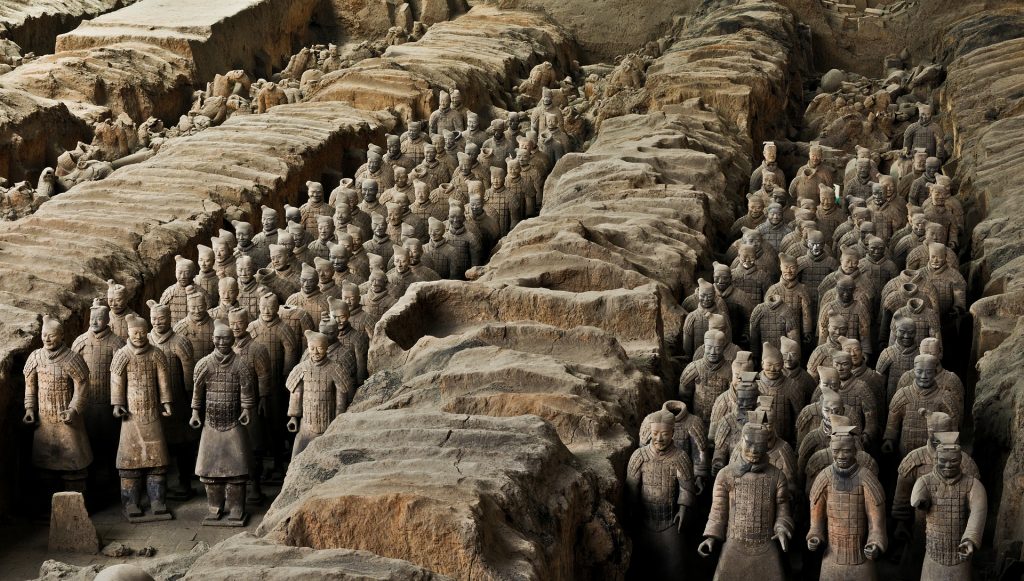 Xi'an is probably most famous for the amazing and wondrous Terracotta Army. When visitin the Mausoleum of Qin Shu Huang, tourists are able to walk above the massive pit holding the famous Terracotta Army. The warriors date back to around 221 B.C. This is a mind-blowing once in a lifetime experience. The museum even lets you put your hands in clay and create your own terracotta warrior. With enough time, you could have a terracotta warrior army of your own!
If natural wonders of the world are more your type of thing, Xi'an is home to Mount Huashan, one of the most dangerous mountains in all of China. This attraction is more for the adrenaline junkies out there, it is most certainly not an easy trip, but still very doable. Mount Huashan has five peaks, the highest of which is over 2,154.9 meters above sea level. You better have some good boots packed!
Xi'an city is surrounded by a massive, impressive and preserved wall designed to protec tthe city. The wall is open to the public, and you're even allowed to ride a bicycles atop the wall.
The Big Wild Goose Pagoda is one of the more famous Buddhist pagodas in all of China. It was built purely out of bricks without any cement. The Wild Goose Pagoda is one of the most iconic examples of traditional Chinese architecture.
Mount Hua is one of the five most sacred Taoist mountains in China. It's about a 90-minute drive from Xi'an, but the mountain is home to a number of temples and religious structures nestled among the peaks. Home to some of the most breathtaking sights in all of Chian, Mt. Hua is known for its sheer cliffs. It is often referred to as the "most precipitous mountain under heaven" and is a major attraction for hikers and mountain climbers.
The Muslim Quarter inside of Xi'an was once the starting point of the Silk Road, the historic trade route that linked China to the Middle East. Known for amazing cuisine and eclectic shops, the Muslim Quarter is sure to stuff both your stomach and your luggage.
Anyone wishing to visit China must have a Chinese visa to enter the country. Many agencies such as ChinaEntryVisa provides visa services to help you obtain one.